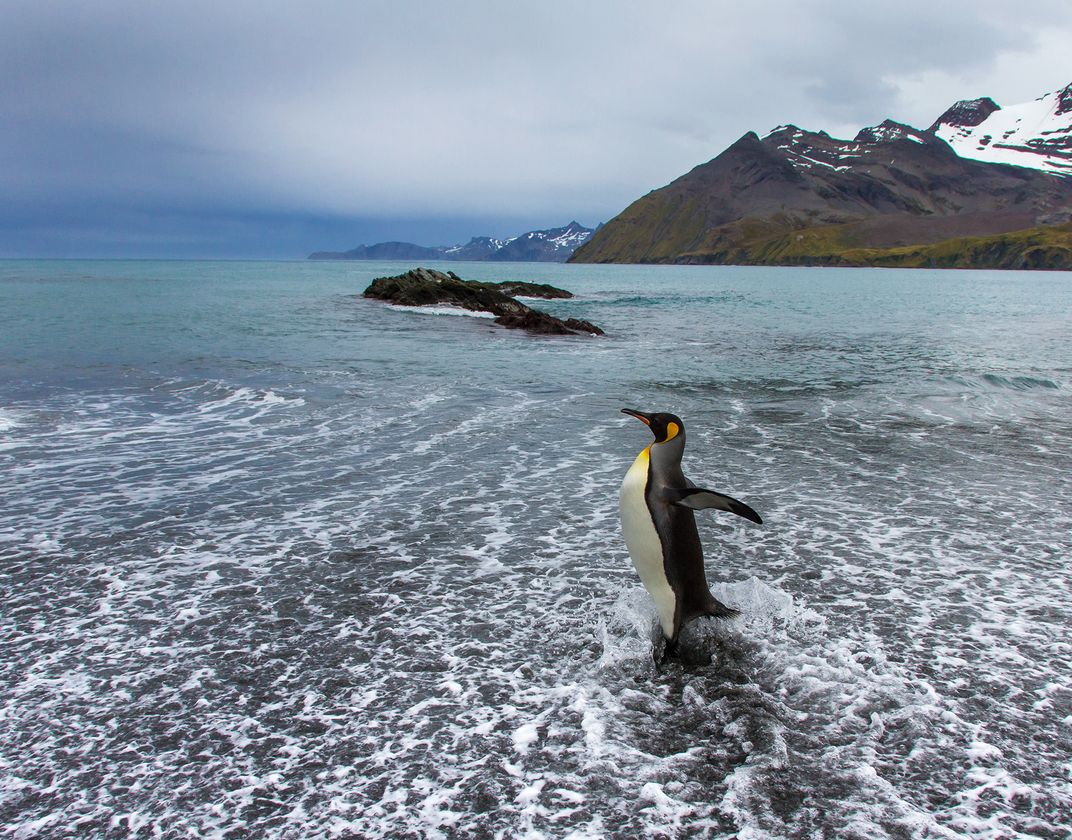 A King Penguin feels the surf rush in along the beach at Gold Harbour on the island of South Georgia.
Altered Image
A king penguin standing in the surf along the beach at Gold Harbour on South Georgia. A view of the dramatic mountains and landscape is in the background. This colony is home to about 500,000 king penguins and has many elephant and fur seals lounging about on the beaches. The distant mountains have glaciers, and the landscape there is very scenic.
By visiting South Georgia we raised money for their rat eradication program. The rats, which were introduced to the island during the whaling era, have had a profound impact on the birds, which are ground nesting. South Georgia is trying to eliminate them before the glaciers, which isolate the rats in contained areas, melt and the rats can spread to other parts of the island.
Anyone who visits South Georgia Island must adhere to strict bio-security measures so that no non-native plant species are introduced to the island. This is one of the most pristine environments left in the world, so a lot of effort is made to keep it that way. This is the essence of sustainable travel where visitors have a neutral or even a positive impact on the places they visit. The benefit of our visit was to help restore the ecosystem to what it was like before commercial whaling introduced destructive animals to this isolated land, which reduced many native birds to threatened levels. Currently the South Georgia pipit is near threatened. The royal southern albatross, wandering albatross, macaroni penguin and white-chinned petrel are vulnerable. The royal northern albatross and grey-headed albatross are endangered. Seeing the incredible king penguin colonies and the huge numbers of seals makes you realize the potential of a truly unspoiled place and the importance of restoring it.
Alteration Note: A small boat was removed from the horizon.
This photo is a finalist in the Sustainable Travel category of our 13th Annual Photo Contest. See all 70 finalists
here
.
Photo Detail
| | |
| --- | --- |
| Date Taken: | 12.2014 |
| Date Uploaded: | 08.2015 |
| Photo Location: | South Georgia and the South Sandwich Islands |
| Camera: | Canon EOS 5D Mark III |
| Copyright: | © Beverly Houwing |
Awards