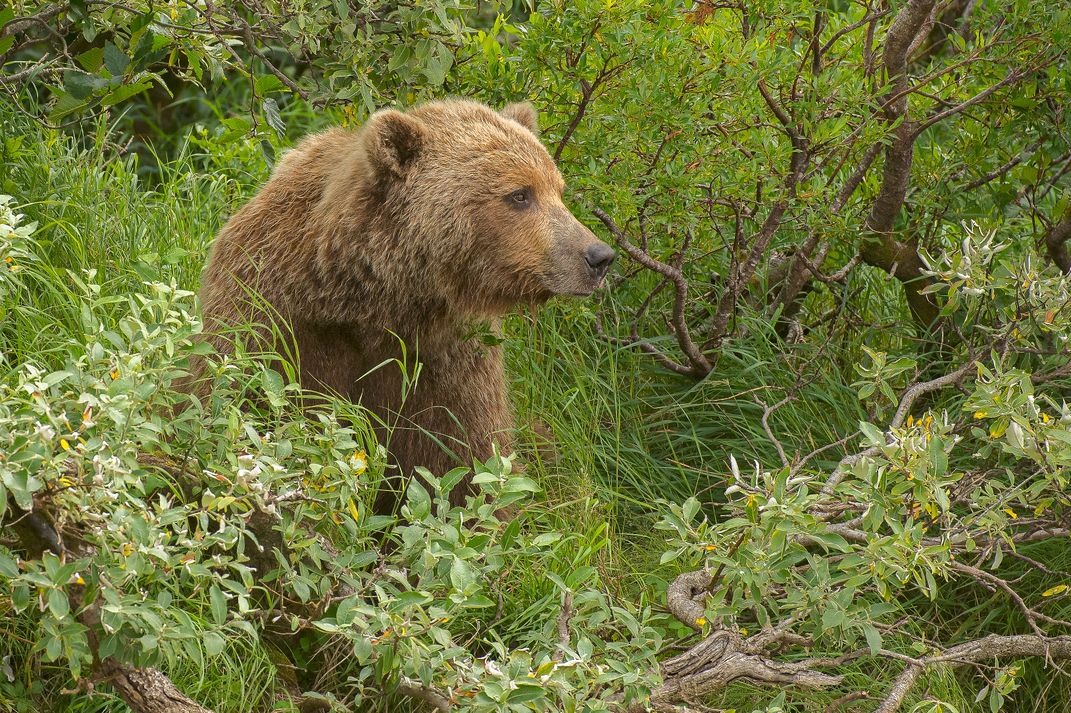 Alaskan Brown Bear
In July 2015, my wife gifted me with a trip of a lifetime: an opportunity to spend time with wild Alaskan brown bears at Lake Clark National Park and Preserve in Alaska. I was truly blessed being in the presence of these magnificent giants living in an unspoiled wilderness. Experiencing coastal brown bears in their natural habitat was something I will never forget. From a respectable distance, I was able to observe bears just being bears.
One day I was enjoying and photographing the incredible spectacle of bears fishing for spawning salmon when I noticed this young bear nestled in the thick vegetation on the opposite bank. It appeared as if she was bit intimidated by the larger, more confident adults that crowded the river. It also struck me that she was intently observing, and certainly learning, the art of catching fish from her safe and secluded location. I was witnessing a special time in the life of a young bear coming of age. Having this opportunity to witness such a moment made me appreciate more than ever the importance and value of preserving our planet and all of its inhabitants. Conservation and preservation are vital to our very existence. In my opinion, there is nothing more perfect or important than nature and wildlife in its purest form. As humans, we must think of our planet as a gift to treasure and preserve, not to conquer and change.
As a wildlife photographer, I feel a great sense of responsibility to both my subjects and also to my viewers. I want my images to offer people a glimpse of how magnificent and beautiful nature really is. To me, this image represents so much of what we as humans should hold sacred. It represents wildlife the way it was intended, wild and free in its natural habitat. This moment captured can be seen a testament to what we as humans can achieve. Lake Clark National Park and Preserve covers over four million acres of pristine, unspoiled natural habitat. A section of our planet that we set aside for wildlife. Preserved for current and future generations to enjoy. In sharing this image I hope to touch the hearts of my viewers. This beautiful wild, free bear is living a natural life the way it was intended. We can coexist with all wildlife, all we have to do is respect them for who they are and allow precious natural habits to exist for them to thrive.
This photo is a finalist in the Sustainable Travel category of our 13th Annual Photo Contest. See all 70 finalists
here
.
Photo Detail
| | |
| --- | --- |
| Date Taken: | 07.2015 |
| Date Uploaded: | 11.2015 |
| Photo Location: | Lake Clark National Park and Preserve, Alaska, United States of America |
| Copyright: | © David Shaffer |
Awards
Photo of the Day: 03.05.16
Editor's Pick
Finalist