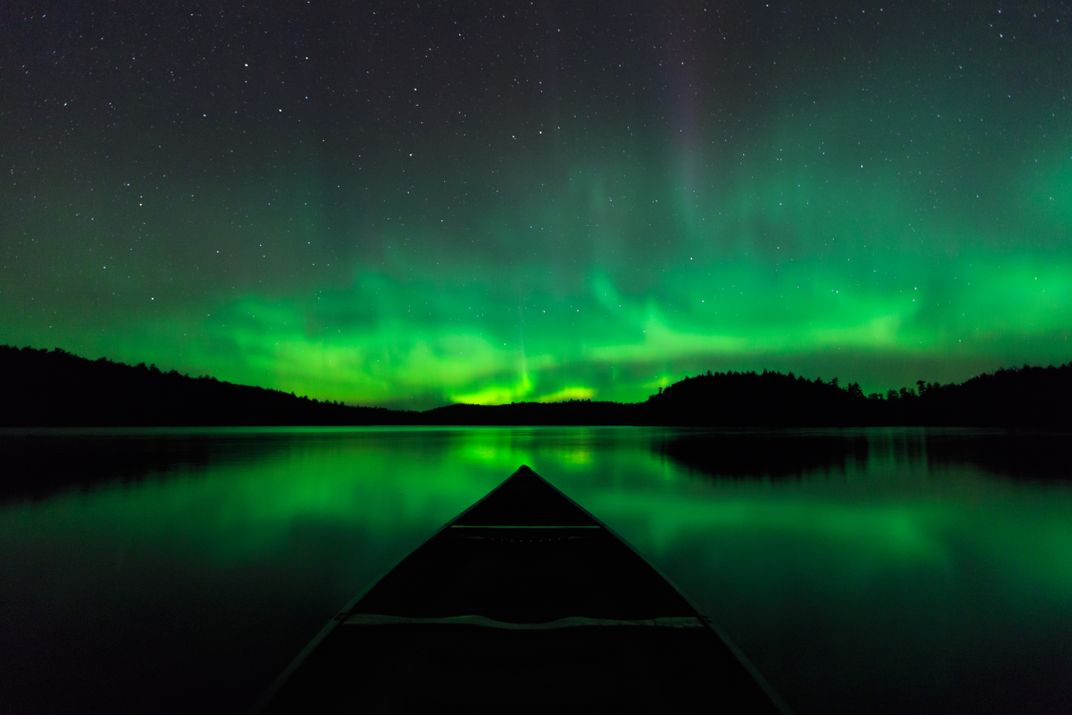 Canoeing under the Aurora
I believe the ultimate form of sustainable travel is to experience the wilderness through canoeing or hiking. A respectful traveler leaves no trace of passage, enjoys the symphony of nature's sounds in respectful quiet and appreciates the clean water and air that invigorate the body. Wilderness travel challenges the body and mind, builds personal character and fortitude, develops respect and appreciation for the natural world and strengthens the bonds of companionship.
In 2014, I completed a 221-day solo canoe trip in the Boundary Waters Canoe Area Wilderness and Quetico Provincial Park. I had been dreaming of such an adventure for many years, dreams inspired by memories of incredible scenes such as this. This photograph captures a moment of generous reward for having overcome many challenges along my journey. For three hours, the undulating curtain of green and red spikes created an awesome, mesmerizing spectacle best viewed in silence and reverence. The image inspires new adventures and a strong desire to protect wilderness areas everywhere.
Mine was not a trip of conquest, but rather a trip to experience the wilderness in all of its moods, challenges, beauty, simplicity and peacefulness. I documented all facets of this journey to help educate and inspire others to learn about wilderness ecosystems and develop a passion to protect all wild places. After having the opportunity to create this unique "Canoeing Under the Aurora" photograph on day 191, I felt it best represented my seven-month adventure.
This photo is a finalist in the Sustainable Travel category of our 13th Annual Photo Contest. See all 70 finalists
here
.
Photo Detail
| | |
| --- | --- |
| Date Taken: | 09.2014 |
| Date Uploaded: | 11.2015 |
| Photo Location: | Quetico Provincial Park, Atikokan, Ontario, Canada |
| Camera: | Canon EOS 5D Mark III |
| Copyright: | © Gary Fiedler |
Awards