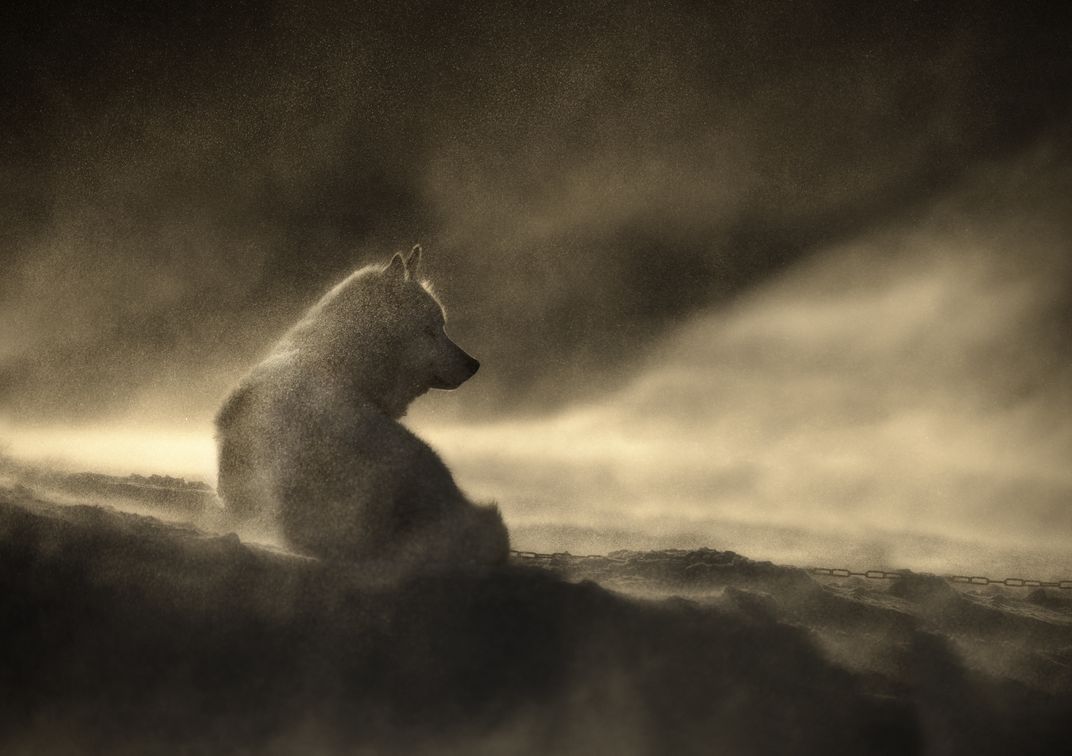 Greenland Dog Lying in a Snow Drift as the Sun Rises
I was on an extreme expedition with my brother and daughter in East Greenland where our mission was to document the region's natural history with dog sleds as our only means of transport. We joined two locals of the village Ittoqqortoormiit on their hunting journey to Jameson Land and down the coast searching for seals. Change is constant – the weather whips up in an instant and then plays itself out in all its glory. The weather is responsible for Greenland's overwhelming sense of drama, and we experience this as we wake up to a blizzard. We are stuck inside an isolated hunters' cabin while the dogs weather the storm raging outside. The sky is clear, but the wind is howling. My 18-year-old daughter could hardly stand upright. The snow stung like sand in a sand storm, but this Greenland dog just sat there in peace looking out for polar bears. Their thick double fur coat consists of a soft, insulating underlayer and an outer layer of longer, coarser guard hairs that shed snow, wind and rain.
This photo is a finalist in the Natural World category of our 16th Annual Photo Contest. See all 60 finalists
here
.
Photo Detail
| | |
| --- | --- |
| Date Taken: | 03.2016 |
| Date Uploaded: | 08.2018 |
| Photo Location: | Scoresby Sound, Greenland |
| Camera: | NIKON D810 |
| Copyright: | © Danie Ferreira |
Awards
Photo of the Day: 08.11.18
Editor's Pick
Finalist