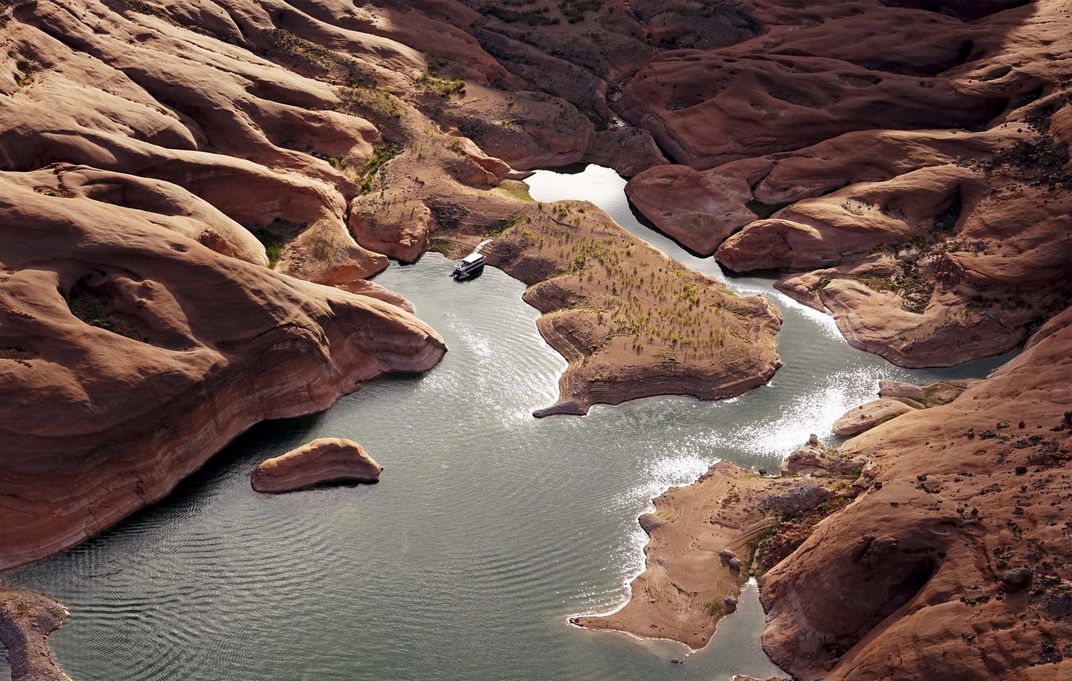 Lake Powell
Where the Colorado River falls from the snow-capped Rocky Mountains into the arid U.S. Southwest, lies Lake Powell. More than 500 feet deep in places and with narrow side canyons, the shoreline of the lake is longer than the entire West Coast of the United States. It extends upstream into Utah from Arizona's Glen Canyon Dam and provides water for Nevada, Arizona and California. But a severe drought in recent years, combined with the tapping of the lake's water at what many consider to be an unsustainable level, has reduced its levels to only about 42 percent of its capacity, according to the U.S. space agency NASA.
I traveled to Lake Powell to illustrate for the world the very obvious consequences of the drought in the western U.S. where I live. I also wanted to encourage others to travel there to see for themselves what is happening. Environmental awareness brought on by people engaging in sustainable travel to environmentally stressed areas of the world is the best way to encourage best practices and educate the public.
My trip to Lake Powell, and the series I shot there, was part of a documentary project ahead of the United Nations Climate Conference in Paris last December. My Powell project was part of a series of Reuters stories, called "Earthprints," focusing on the ability of humans to impact the landscape of the planet.
This photo is a finalist in the Sustainable Travel category of our 13th Annual Photo Contest. See all 70 finalists
here
.
Photo Detail
| | |
| --- | --- |
| Date Taken: | 05.2015 |
| Date Uploaded: | 11.2015 |
| Photo Location: | Glen Canyon National Recreation Area, Arizona, United States of America |
| Copyright: | © Rick Wilking |
Awards
Photo of the Day: 11.19.15
Editor's Pick
Finalist