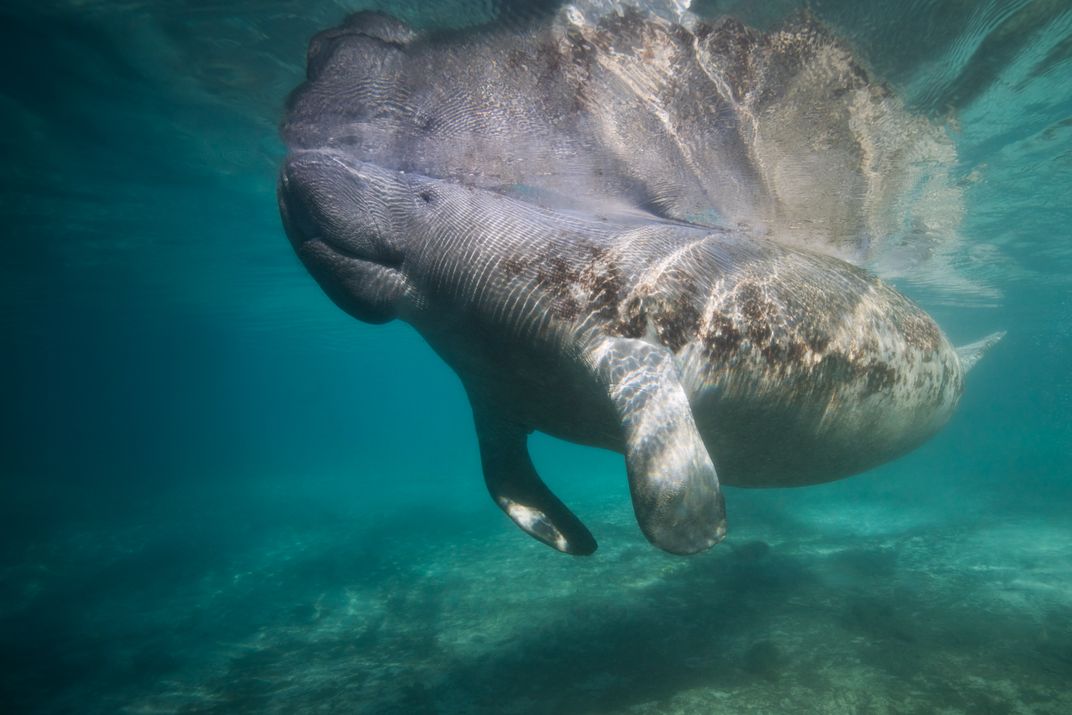 Reflection
Feel the clarity of diving into Florida's cool spring water with Florida manatees as you peer into this image. Florida might be known for its warm weather and sunny beaches during the summer, but the winter temperature chills the Florida ecosystem. As water temperatures start to dip below 70°F Florida manatees struggle to survive. To seek refuge, manatees every winter congregate in the warm Florida springs that flow with a constant 72°F temperature.
On a chilly winter morning in Florida, I paddled my raft up river to an area where manatees congregate. While I was docking my boat on the side of the river, I could see manatees swimming by. Our bodies loose heat extremely fast underwater, and in order to stay in the water for hours I fought my way to get into a thick and tight 7mm wetsuit. As I jumped into the river, I could feel the cool water fill my wetsuit giving me an immediate chill until the water between my skin and wetsuit warmed up from my body heat.
As I swam in the river I finally reached the entrance of the spring. Swimming into the crystal clear channel where the springs arose from was like swimming against a jet in a hot tub. After fighting the current I reached an enclave where a large sea cow was swimming. Manatees need to breathe air like you and me, so when I notice the manatee get close to the surface I exhaled my breath sinking slowly to the bottom to capture the manatee and its reflection against the surface of the water. This moment shows why Mother Nature is truly the greatest artist of us all.
Photo Detail
| | |
| --- | --- |
| Date Taken: | 12.2016 |
| Date Uploaded: | 07.2018 |
| Photo Location: | Florida, United States of America |
| Copyright: | © Thomas Chadwick |
Awards
Photo of the Day: 07.27.18
Editor's Pick