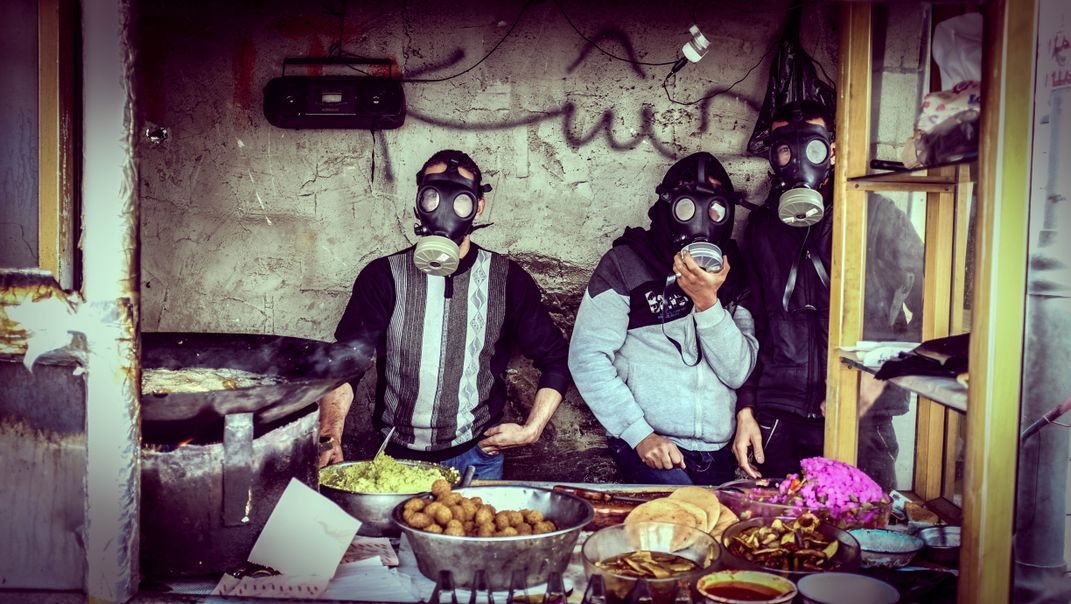 13th Annual Smithsonian Magazine Photo Contest
Travel
A side of tear gas, Hebron.
I was on assignment for AJ+ covering clashes that had broken out in Hebron between young Palestinians and Israeli soldiers. Young men were tossing rocks toward a guard tower using slingshots and their hands. Soldiers were responding by firing tear gas canisters. Several blocks away, in an intersection with a market, I came across this booth. I watched the three men calmly place gas masks across their faces and continue to await customers. The scene struck me as so absurd, and yet so much a part of life there, that I asked them to take their photo. I was in the middle of live streaming, so I was holding the cell phone that was broadcasting in my hand while taking a quick shot without adjusting my settings. I fixed the contrast and clarity in post production.
This photo is a finalist in the Travel category of our 13th Annual Photo Contest. See all 70 finalists
here
.
Photo Detail
| | |
| --- | --- |
| Date Taken: | 11.2015 |
| Date Uploaded: | 11.2015 |
| Photo Location: | Hebron, Palestine, State of |
| Camera: | X100S |
| Copyright: | © Shadi Rahimi |
Awards