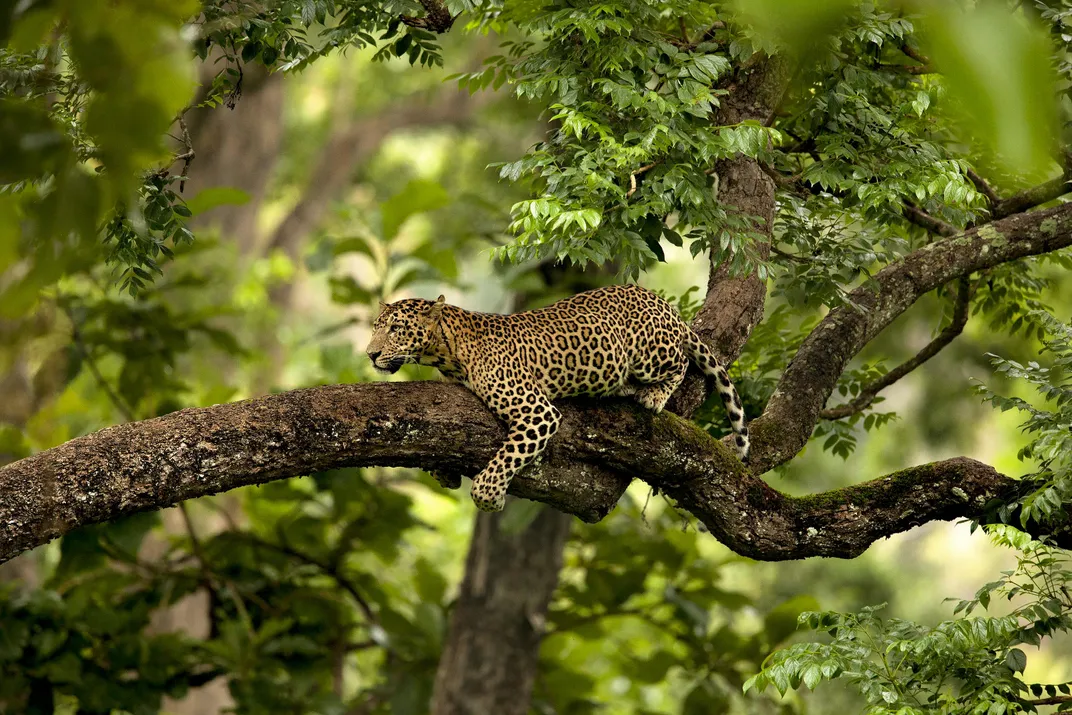 The Tree Hugger
The Indian leopard, particularly in the southern region of India, is weary of the high concentration of tigers, wild dogs and sloth bears and therefore spends most of its time on high tree branches. I was at a safari in India's Kabini Forest Reserve, a park that forms the Nagarhole National Park, which is one of the biggest environmentally pristine complexes in India and hosts the highest number of tigers in the world. I was on my first safari in the park, and I was taking in the beauty of the forest and observing the charismatic movements of the Kabini's wild inhabitants. The southwest monsoon had turned the landscape into a deep green shade, and I felt as though each petal of a tree had been meticulously painted. As my thoughts grew deeper, suddenly our driver stopped and pointed out to a leopard perched up a tree. This was the first time seeing a leopard. I was awestruck for a few seconds and then I quickly got the camera, adjusted the settings and started clicking.
Through my photographs and personal sites, I share information regarding the wildlife I photograph and the importance of conserving their habitats. This summer I started working on a personal project which focuses on telling the stories of those who work in the conservation field: forest guards, elephant mahouts, villagers in and around the reserves. Many, when they think about conservation, think of big organizations and government, which is completely fine, but they forget those who risk their lives tracking tigers on foot day in, day out, away from families and the comfort of the home for months. I hope to release this project this coming summer, as a video and blog series.
This photo is a finalist in the Sustainable Travel category of our 13th Annual Photo Contest. See all 70 finalists
here
.
Photo Detail
| | |
| --- | --- |
| Date Taken: | 07.2015 |
| Date Uploaded: | 11.2015 |
| Photo Location: | Nagarahole National Park, Karnataka, India |
| Camera: | Canon EOS 5D Mark II |
| Copyright: | © Suyash Keshari |
Awards
Photo of the Day: 02.23.16
Finalist