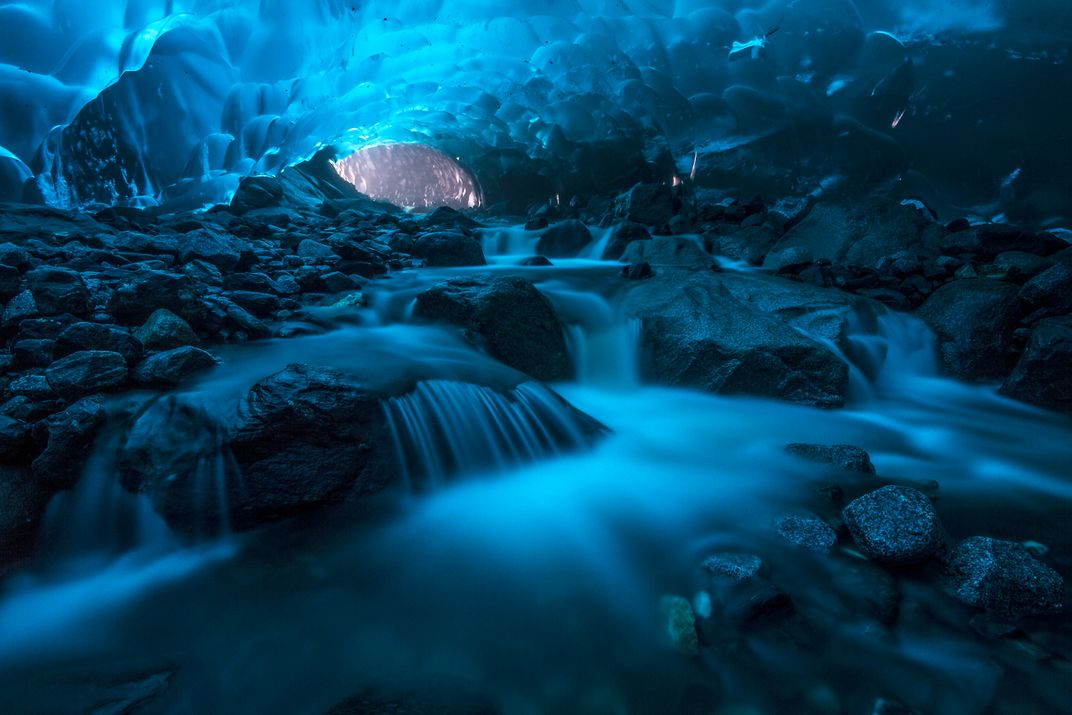 Under Pressure
This image was created underneath the Mendenhall Glacier in Juneau, Alaska. The beauty of these glaciers astounds me to this day, but as we all know, they are disappearing worldwide. The image has the ability to educate the world and give hope. Hope that with the right mindset, we can preserve the beauty that surrounds us by living sustainably. This will ensure that future generations can enjoy the same beautiful images we capture through such photographs.
The inspiration for this photo came from seeing this glacier everyday in my backyard. I attended university in Juneau, Alaska and from the campus you can catch glimpses of the glacier on a clear day. I felt personally connected to this body of ice, and as it began to recede before my very eyes, I knew I needed to preserved the beauty of it through images. I began to photograph it in late 2011 and am still photographing it today. This is because although I know we in Juneau can see the effects of climate change and know the importance in traveling and living sustainably, I feel it is important to document this change so that the world may understand the beauty we are losing everyday.
This photo is a finalist in the Sustainable Travel category of our 13th Annual Photo Contest. See all 70 finalists
here
.
Photo Detail
| | |
| --- | --- |
| Date Taken: | 05.2013 |
| Date Uploaded: | 08.2015 |
| Photo Location: | Mendenhall Glacier, Juneau, Alaska, United States of America |
| Camera: | Canon EOS 7D |
| Copyright: | © adam taylor |
Awards
Photo of the Day: 04.03.16
Editor's Pick
Finalist