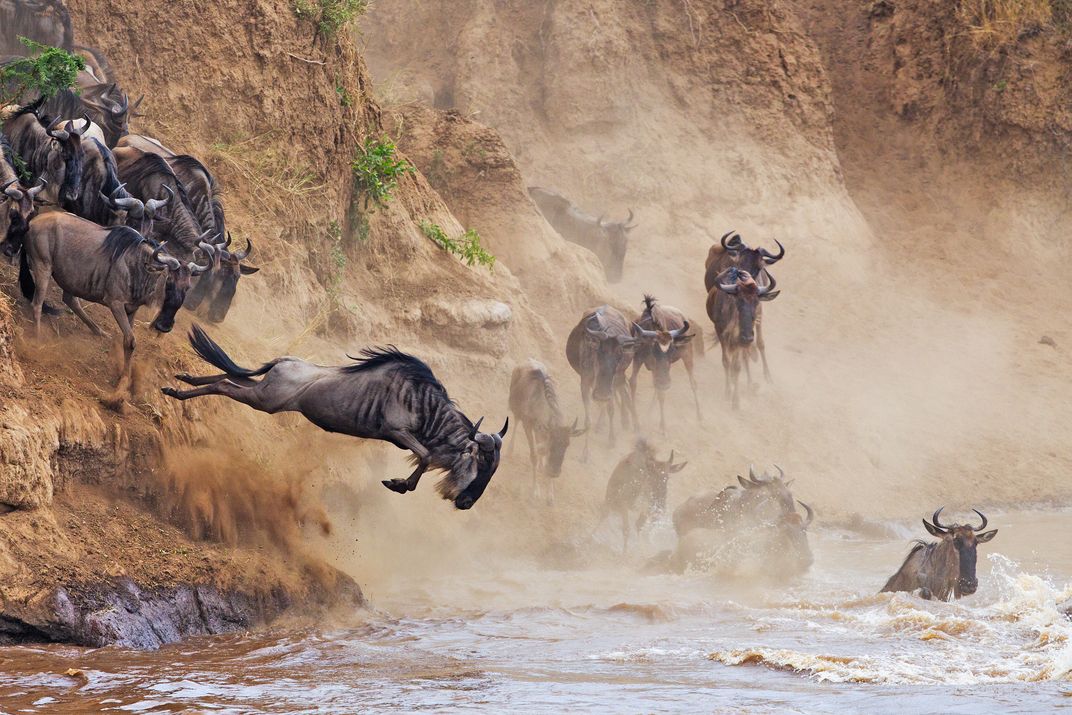 Wildebeest Leap
This photograph was taken in Kenya at the Maasai Mara reserve during the annual wildebeest migration. The wildebeest population is strong and provides nourishment for all the ecosystem. I had the desire to photograph the wildebeest after reading about their great migration and how they face dangers in their journey.
To me, sustainable travel is about never leaving behind things that can harm or change a delicate environment. I am careful not to even leave a footprint in a delicate dune. There are simple steps one can take when traveling abroad that can greatly reduce one's footprint: Using as little water and electricity as possible; reducing waste by only bringing the essentials and reusing bottles and equipment; buying and eating locally and organically; never buying products that come from or support the hunt of endangered species, and never disturbing the natural behavior of the wildlife.
This photo is a finalist in the Sustainable Travel category of our 13th Annual Photo Contest. See all 70 finalists
here
.
Photo Detail
| | |
| --- | --- |
| Date Taken: | 08.2013 |
| Date Uploaded: | 11.2015 |
| Photo Location: | Maasai Mara National Reserve, Narok County, Kenya |
| Camera: | Canon EOS-1D Mark IV |
| Copyright: | © Ricardo Cisneros |
Awards
Photo of the Day: 01.12.16
Finalist